The female SHS students whose video went viral some weeks ago for asking their colleagues girls to allow boys to 'chop' them according to information reaching us have been expelled by their school.
The seven ladies who are students of Ejisuman Senior High School have been asked by the school management to pack bags and baggage and leave the school.
According to a letter sighted, the management stated that the video from the girls has tinted the school's reputation aside embarrassing themselves and the school.
It continued aside that, the girls also broke three school rules and hence needed to be dealt with accordingly.
The rules, as stated in the letter dated February 6, 2020, and titled Expulsion from Boarding House said the students had used unauthorized gadget [mobile phone] to dent the image of the school.
The letter which was addressed to the Regional Director of the Ghana Education Service said the students had intentionally uploaded the video on social media where unprintable words that border on sex were spewed.
The viral video in reference was recorded and circulated by the seven girls who were seen telling their fellow girls to give in to sexual demands from boys.
They argued in the video that they don't understand why other girls would be saying they are virgins when they could just allow their boys to chop them.
They added that should they die today, their private parts would go waste hence their advice.
Read the later below: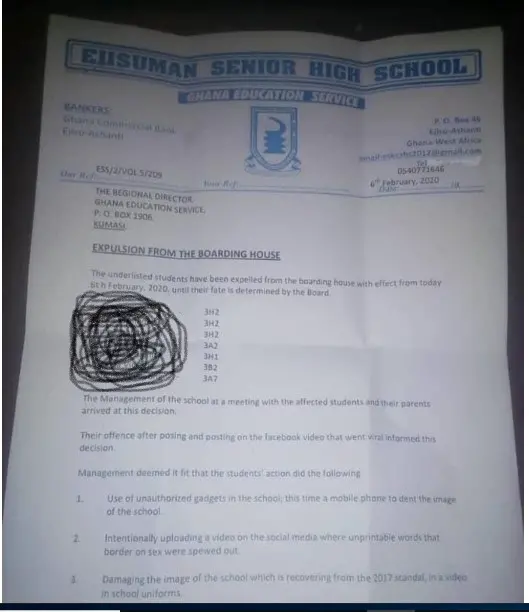 The expulsed girls were all in their final year